Applying your make-up has never been easier or more fun using this cute and very clever brush set, by Celebrity makeup artist, Fiona Corrigan. Why clever? Because the set is housed in a gorgeous, silver upright, snap stud case and each brush is held neatly in place in it's own easily accessible slot. No more hunting around for brushes!
Fiona says, "You don't need a whole lot of make-up brushes to get your make-up on. I discovered early on, that I just kept using the same brushes over and over again to create every make-up look on all my clients". With this in mind Fiona decided to create a simplistic line of brushes that are safe and secure and most importantly easy to use.
"It's ok for professional make-up artist's to have long brushes but when it comes to applying your own make-up the long handles are awkward so I decided on shorter brushes to make it easier to maneuver them." says Fiona.
Having made up the likes of Naomi Campbell, Rachel Weiz, Helena Bonham-Carter and Liv Tyler we can trust her selection of the 'magnificent seven' as she so fondly calls them.
BRUSH STROKES
Hide Me: For foundation application.
Fade Me: Use the point of the brush to apply concealer.
Define Me: A dual-purpose brush used for contouring and applying blush.
Shade Me: Used to sweep shadows over the entire eye area.
Soften Me: The soft tapered edges create definition.
Line Me: A precision brush for wet and dry liners.
Smudge Me: To enhance and define your eyes.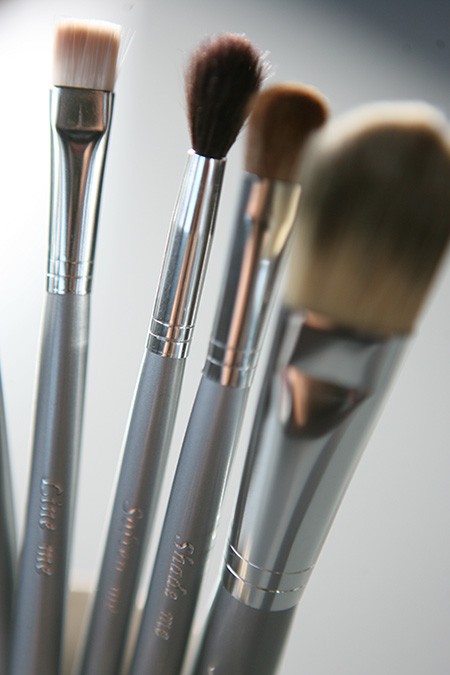 EXPERT TIPS
Make-up brushes can harbor unwanted dirt and bacteria, so wash then frequently.
Wash bristles in lukewarm water, using a mild shampoo – you can use a little hair conditioner – rinse thoroughly.
Be careful not to allow handles to become water logged as over time it can loosen the glue.
Wipe them gently before placing them flat in a row on top of a dry towel.
Gently press them back into shape with your fingertips to prevent feathering.
WIN! We have 10 SMUDGE Brush Sets to give-away. Be one of the first 10 readers to leave a comment and your address to receive one.